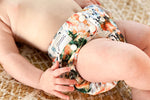 More Australians are using cloth nappies due to an increase in 'environmental awareness' among parents. According to the University of Queensland's Lifecycle Assessment Study (2009), cloth nappies have less of an impact on the environment. Cloth nappies can be eco-friendly if you refrain from flushing nappy liners (throw them out instead), use biodegradable detergents, hang nappies to dry instead of using a dryer and use a more energy efficient washing machine. 
One of the main goals of The Australian Nappy Association (ANA) is empowering families with the ability to save money through the use of cloth nappies. Although cloth nappies can be more expensive than disposable nappies upfront, they save you money in the long run. 
Cloth nappies have adapted over the years and are now available in different styles: 
Cloth (Terry Squares): A traditional cloth nappy which is made of cotton, bamboo or hemp. Although they are more time consuming to put on (have to fold them into shape), they are 100% natural and the cheapest of all cloth nappies. 
Pre-Folds: Made of layers of cotton or bamboo which are folded and placed inside a leak-proof cover. Can be less absorbent than other types of cloth nappies. 
Fitted Nappies: A modern cloth nappy which is shaped like a disposable nappy and fastens with velcro or press studs. Made of cotton, fleece, hemp or bamboo and sometimes comes with an absorbent inserted. More expensive than other cloth nappies. 
Pocket Nappies: A leak-proof outer material which is sewn together with an inner layer. Absorbent inserts are placed into the pockets between the outer and inner layers. 
All-In-Ones: A water-resistant outer layer which is sewn together with an absorbent inner layer. Secured with clips or velcro. Easy to wash but slower to dry. 
All-In-Twos: A leak-proof outer material and absorbent snap-in layers which can be removed for washing. 
The Different Parts of a Cloth Nappy Include: 
Nappy:

The main part which provides the absorbency. It can be either shaped or flat. 
Wrap:

The outer waterproof layer which stops clothes from getting wet. 
Liner:

Sits inside the nappy and catches the poo. Can either be disposable or flushable. 
Booster:

Provides extra absorbency for night time use. 
Common Cloth Nappy Materials Include: 
Bamboo:

Absorbent and breathes well (great for night time use). 
Cotton:

Easy on the skin, dries quickly and is cost-effective. 
Hemp:

Long-lasting and absorbent. 
How to Wash Cloth Nappies
The idea of washing cloth nappies can be daunting for some parents, however putting a simple and organised system into place will ensure that the whole process is stress free and efficient. 
Here are some handy tips which make washing cloth nappies easier.  
Discard poos in the toilet. 

Get rid of soiled and disposable liners. 

Rinse any soiled nappies thoroughly. 

Place dirty nappies in a bucket. 

Only wash the nappy cover if it's stained or smells. 

Use a Cold Rinse Cycle first which drains away all the water and any remnants of urine and poo.  

After a Cold Rinse Cycle, follow the washing instructions found on the nappy label. 

Use a non-bio washing detergent, instead of fabric softener or bleach which may damage the cloth nappies. 

Hang nappies in the sun to dry. The sun acts as a natural bleach. (Using a tumble dryer will ruin the nappy over time). 
It is important to follow the specific wash and care instructions that come with your cloth nappies, so that you can get the best use out of them. Every manufacturer will have their own set of instructions depending on the nappy style and materials. 
What Happens If Your Cloth Nappy Leaks? 
Try not to stress too much if your nappies sometimes leak. This is a problem that occurs with both cloth and disposable nappies and can be fixed by doing a few simple things: 
Washing your cloth nappies before using them to improve the absorbency. 

Make sure that the nappy fits your child correctly and that there are no gaps. 

Make sure parts of the nappy aren't hanging out of the leak-proof cover. 

Make sure your nappies are well made with absorbent material, even if it means spending a bit of extra money. (Cheaper cloth nappies may not be as absorbent). 
Not every cloth nappy style is going to work for you and your baby, so it's important to consider certain factors before making the switch or selecting a particular style or brand. 
Some important questions to think about before purchasing cloth nappies include: 
What style of cloth nappy are you looking for? 

How much are you wanting to spend?  

What fabric do you want your nappies to be made out of? 

Would you be willing to spend more money for higher quality/longer-lasting nappies? 

Do you want your baby to use an eco-friendly/organically-made nappy? 

What are the care/washing instructions? 

How long does it take to dry?