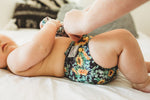 Cloth nappies can seem daunting to put on a small squirming baby, but once you get the hang of it, you'll soon be a pro at changing countless nappies a day. 
How you fold and put a cloth nappy on your baby depends on the type of nappy you use, although most nappies follow the same basic steps. As you continue to use cloth nappies, you'll end up choosing and continuing to use the best method that works for you and your baby. 
Necessary Supplies 
A clean cloth nappy of your choice. 

A clean waterproof cover (if needed). 

Baby wipes or a clean cloth (if using a cloth, use warm water and an unscented soap for sensitive skin). 

Dry washcloth to dry your baby. 

Nappy fasteners. 

Rash cream (if your baby has sensitive skin or a rash). 

A disposable liner (makes disposing of poos easier and protected nappy from creams). 

An insert/booster for added absorbency (mostly for night time). 
How to Put a Cloth Nappy On a Baby 
Method 1: 
Lay out a clean nappy flat on a solid and clean surface. (Some nappies may need to be folded first). 
Fold the nappy in half horizontally.
Fold the nappy vertically.
Pull the top-right hand corner to the left side to make a triangle. 
Turn the nappy over to the back. 
Fold the top two layers into thirds to create an absorbent pad in the middle of the nappy. 
Place the baby in the middle of the nappy and fold the front flap up. 
Fold sides to the centre.
Secure the nappy with a clip, pin or built-in snaps.
Place on a waterproof cover
Method 2: 
Place a clean nappy under the baby so that the back edge is in line with the baby's waist.
Pull the front half up to the baby's stomach.
Make sure the nappy is stretched out as much as possible between the baby's legs so it doesn't cause any discomfort, but also make sure it's secure and the baby is covered.
Secure the cloth nappy with snaps or clips. (Prefold and flat nappies will need nappy grips).
Make sure the nappy is snug and secure but not too tight.
Place a waterproof cover over the nappy.
Secure the cover with snaps. 
Things to Remember 
Make sure you always change the nappy on a clean, secure surface (changing table or on a mat or towel on the floor or a couch). 

Always wash your hands before changing a nappy. 

Make sure the nappy isn't too tight by placing two fingers inside the waistband of the nappy and making sure you don't pinch your baby. 

There shouldn't be any gaps around the legs and crotch area of your baby when they wear a cloth nappy. 

The crotch area, front and back should be relatively flat and not all bunched up or bulging. 

Cloth nappies must be changed frequently otherwise your baby can develop nappy rashes. 

Make sure you have enough cloth nappies on hand, so you don't run out (alternatively, you can keep some disposable nappies on hand for emergency use). 

Newborn nappies have a fold down front to avoid any irritation of the umbilical cord stump. (Make sure the back of the nappy is higher than the front) 

When you and your baby are on the go, take a wet and dry bag which means you can put any dirty cloth nappies in the wet part of the bag (which will reduce any odours) and clean items in the dry part of the bag. 

Prefold and flat nappies don't come with built in fastenings like some other cloth nappies, so you'll need to have nappy pins and fastenings on hand.