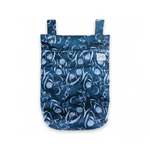 A wet bag is designed to hold used cloth nappies when you're out and about. However, with a waterproof lining and secure zipper to seal in any odours or liquid, they can be used for much more than just dirty cloth nappies. 
Wet bags are made from PUL (Polyurethane Laminate Fabric) and are reusable, water resistant or waterproof (depending on the design), and eco-friendly, making them perfect for lots of different uses. 
Wet bags come in a variety of different styles; a wide range of size, shape, pattern, zipper and handle options are available. Some wet bags also have a 'dry bag' section to store dry and clean items. 
Wet bags are incredibly versatile and can be used for many things: 
Dirty Nappies:

The reason why wet bags were created. When you're out and about with a baby, the last thing you want is to be searching around for a bin to dispose of a dirty nappy. Having a wet bag on hand allows you to keep the dirty nappy in there until you can properly dispose of it once you get home. The wet bag stops any bad odours or liquids from getting out. 
Mini Nappy Bag:
You can store all your clean nappy accessories in the wet bag, along with any dirty ones. If you have a wet bag with separate sections you can put all the clean items in one section and dirty items in the other one. 
Swim Bag:

Wet bags are water resistant which means wet swimming costumes can be kept in there while you are out. You can also keep your childrens swimmers in there and keep them in the car during the warmer months for an impromptu visit to a pool or beach. 
Spare Baby/Children Clothes:

Children can get messy, so it's always helpful to have a spare change of clothes on hand when you're out of the house. 
Travel Toiletries/Laundry Bag:

Can be used to store toiletries or as a dirty laundry bag while you're travelling.
Wallet:

The wet bag can be used as a wallet and bag. Store your phone and money in there, as well as other daily essentials like a water bottle and sunscreen. 
Breast Pump Storage:

If you're a mum who breast pumps, you can store your pump and all its parts in a wet bag, ensuring that you don't forget or lose any of the important pieces. 
First Aid Bag:

Store all your first aid necessities in a wet bag to keep in the car or in your bag. 
Snack Bag:

Pack some snacks in your wet bag when you and your children are on the go. The wet bag will prevent any leaks or messes and will ensure that the snacks stay fresh. 
Activity Bags:

Going on a road trip? Stuck in traffic? Keep some books and toys in a wet bag to leave in the car, and let your children pull them out when they start getting restless. 
Store Electronics:

Keep your electronics safe when you're at the beach or pool by storing them in a wet bag. 
Mum's 'Emergency' Bag:

Keep anything that might keep you going throughout the day or give you a boost when you need a little pick me up (chocolate bars, snacks, a book, etc). 
Baby Shower Gift Wrapping:

Instead of wrapping a baby shower present in wrapping or tissue paper, put the present in the wet bag. It not only looks attractive and sets your gift apart from everyone else's, but it also helps to save the environment. 
Although wet bags were first created for the use of storing cloth nappies, they are clearly versatile and can be used for much more than just a place to store dirty cloth nappies. Make sure you hold onto your wet bags after your children are out of nappies because you never know when or where you could use them!